TORAH KEEPS THE ANCIENT PEOPLE TOGETHER
Recently at Jerusalem's Sheraton Plaza Hotel there was a conference of mountain Jews Rabies from Russia, Azerbaijan, Georgia, Israel and USA. Event was outstanding and very solemn due to many well-known Torah connoisseurs between almost 150 participants.
SOLEMN AUDIENCE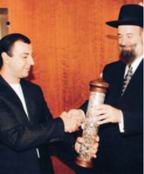 into his Jerusalem residence was given by Chief Rabbi of Israel to greet all the participants of conference of mountain Jews Rabies to the youngest Jews leader Zaur Gilalov. He received a commemorative gift...
NEW BOOK ABOUT TORAH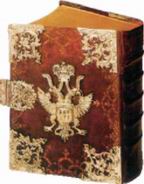 Rabbi Iskhakh Zilber published a new book "Speeches about Torah", describing his own biography and the sad faith of all those who were fascinated by the Book into Soviet Russia. Iskhakh Zilber himself is a holy person, who got the strict Torah education from his father - a Rabbi himself and who consacred his life to spread the word of Torah among new generations of Jews.
TOLDOS YESHURUM
As an organization was founded by Rabbi Iskhakh Zilber's students few years ago to recreate the importance of Torah among the youngest generation of Jews, living in Russia.
Toldos Yeshurum had a goal to create the net of Torah centers for Russian-speaking Jews at Israel and succeeded.
Now this movement has the support of the most famous Rabies of Israel.
YOM KIPPUR

The Judgement day is one of the most important Israel Holidays - is a day of expiation and fast. This day all Jews are not only aspiring to have the rescue for sins against the Creator, but also for those against humans. This day everyone learns is his prier accepted or rejected by the highest Judge.